Socio-economic study on the appropriateness of a financial package to guarantee the funding of dredging and sediment management work in the Walloon Region
Context
The Directorate General for Mobility and Waterways Operations (DGO2) commissioned PwC, with support from ICEDD, to carry out a "socio-economic study on the appropriateness of a financial package to guarantee the funding of dredging and sediment management work in the Walloon Region". Dredging inland waterways is necessary to maintain river traffic, but it carries a significant cost. For example, this amounted to approximately 16.5 million euros per year over the period 2013-2016.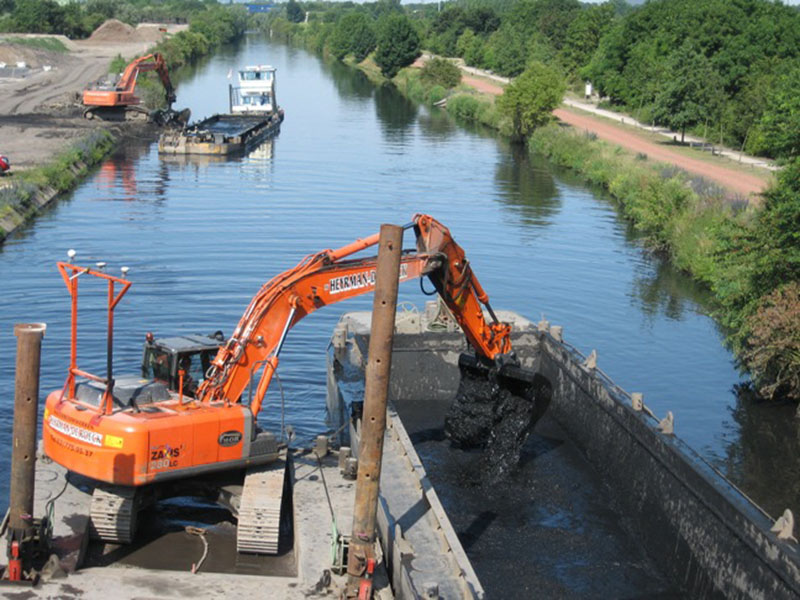 Source : www.ctp.be
Objectives
In order to study funding, several steps were needed:
An overview of dredging activities in the Walloon Region;
An evaluation of the costs and partial costs related to dredging;
A study of the feasibility of structuring a circular economy based on the reuse of sediments;
Identifying possible sources of funding.
Execution
As part of this study, ICEDD participated in:
An overview of dredging activities in the Walloon Region and the legislation;
A benchmarking of practices and legislation in neighbouring countries and regions as regards dredging and the funding of dredging;
Defining a scenario to maximise the long-term added value of Walloon waterways (defining the quantities to be dredged according to different scenarios using an Excel tool).